The Garden Deli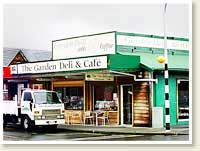 The Garden Deli
Ph: (04) 902 7745
The Garden Deli offers fresh cuisine based on the best of local & seasonal produce. An all day blackboard menu and delicious cabinet food (made on premise each day) will tempt even the strongest of wills, and a lovely selection of tea and Burton 's coffee make for a delightful experience. A relaxed, warm and friendly atmosphere combined with a great location and super service makes this café a regular for locals and visitors alike .The Garden Deli also stock an array of tasty products including the delicious Piako Gourmet Yoghurt, Cooked Ham On The Bone (the Cafe specialty) an array of tasty Organic Juices, Puhoi Cheeses and their very own Bottled Salad Dressing (great gift idea!) you would expect to find in any Deli of repute
.
Intriguing Sweets are always a delight and larger groups are quickly accommodated even at short notice.(although bookings are encouraged) Being one of the few "pet friendly" cafés on the coast means the outdoor Garden Area is always equipped with water bowls and shade for the hottest of days. The Garden Deli is open 7 days and during the week is open from 7am so takeaway coffee's & freshly baked Scones or Muffins are always available for the early birds!
The Coffee Card is also an added bonus and well worth taking when offered!
Gluten Free items are always on offer and scones and muffins each morning are a real test for anyone walking by and smelling their freshly baked aroma! A real plus – they don't pass on a surcharge on Public Holidays!
The best Café that ticks all the boxes…..friendly & helpful service, fresh fare at good prices and a nice buzz all round make this Café the place to frequent.
Contact The Garden Deli
Ph: (04) 902 7745
Photos of Shops:


Click Here
Raumati Village News:


Biking Mad!!

New biking shop has opened down at the Raumati Village Shopping Centre - Biking Mad. This is an exciting new shop there to look after the hugely growing biking trend. Come down and check out there range of biking accessories and bikes, they are located next door to the Village Baker.

New Shop Polly's

A new clothing store has opened at the Shopping Village called Polly's. Come down and check out the range of clothing on offer.

Why the Village has the best Coffee

The new Italian Wild Olive Cafe has everyone buzzing at the moment. With fantastic Food, great service and of course the best coffee there's no reason not to drop by and try it for yourself. Opened for both lunch and dinner.