The Great Kiwi BBQ
By Bill - Raumati Village Meats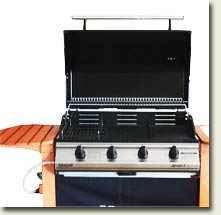 Hi, I'm Bill your local Village butcher.  I'm going to tell you how to cook the great kiwi BBQ.

Firstly, do you use gas or charcoal?  The main difference between gas and charcoal is in the flavour.  Charcoal gives you a distinctive smoky taste, while foods cooked on a gas grill will basically retain their natural flavour. Ultimately, it's a question of preference.  Now I suggest your BBQ be done on one of those beautiful Kapiti Coast days when the sky is cloudless, there's a very slight refreshing breeze in the air and the sun is just on the horizon.  If you need to marinade any of your meat, this should be done a good 30-40 minutes before cooking (a marinade is basically a sauce that uses acidic ingredients such as red wine, vinegar, citric acid – it's used to add flavour and tenderise).  Next preheat your BBQ (this is very important), this will take a good 15 minutes for gas and about 30-40 minutes for charcoal (you need to wait for the coals to become red hot with a thin white ash covering).  Now I suggest a cold beer in hand and pull all your friends' and family's chairs around the BBQ.

You need to work out what heat you want your BBQ – it totally depends on what meat you are cooking.  Refer to my following recommendations.  You can work out the heat of your BBQ by counting how long you can hold your hand just over the grill: 10+ seconds is low heat, 6-8 seconds is medium heat, 2-4 seconds is high heat.

Make sure that all your meat is at room temperature before cooking, this is very important because if the meat is still thawing it will cook on the outside but not inside. Gather the meat and food and lay out well.  I suggest also having an oven dish nearby so once cooked you can keep the food warm in the oven.

Time to start cooking!!!  Beef and pork should be cooked at high heat.  Beef hamburger patties take about 12 minutes to cook (6 minutes each side) and only turn once so the beef doesn't dry out.  Steaks that are less than an inch thick should only be cooked for two to three minutes on each side on a high heat.  Medium heat is ideal for cooking chicken.  This type of meat tends to cook more quickly, so if the temperature is too high, the outside will be done while the inside is still undercooked.  To cook chicken well, it's usually best to start with direct heat in a high temperature area.  This helps quickly cook the outside and seal in the juices.  Once the outside is all browned, you should move it to an area of indirect heat to let it fully cook.  Alternatively you can cook chicken in the oven beforehand, then once it's cooked put it on the BBQ for a short time on high heat, this gives it the flame grill flavour.  Precooked sausages will take about 4-6 minutes.  If the sausages are not already cooked, precook them in a skillet until almost done.  Finish cooking on the BBQ for 8-12 minutes or until thoroughly cooked.  Turn them frequently.

Here are a few tips when cooking: always grill meat that is totally thawed, trim extra fat away to help cut down on flare-ups, don't use sauces that contain a lot of sugar while grilling (brush them on at the end to prevent burning), consider precooking chicken to get it well cooked before finishing it off on the BBQ.

If you would like to know more about the great kiwi BBQ come down to the Raumati Village butcher.  I'm happy to suggest to you the different meats we have to offer and am always happy to give you that perfect cut to meet your requirements.