Kapiti Island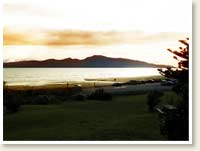 Kapiti Island is undisputedly Kapiti's most well known landmark. It is hard to miss and dominates the ocean along the coast, providing beautiful scenery and protection from the harsh conditions of the ocean. Kapiti Island has had a very colourful past with different groups of people living on the island for more than 800 years. During that time many tribal communities have left their mark on the island, with one of the most well known tribal leaders being Te Rauparaha who controlled his middle New Zealand empire from here between the 1830s and 1860s. In the last 150 years Kapiti Island has been occupied by various groups, from explorers to farmers to whalers and finally it was protected some 100 years ago. At its peak there were about 2,000 whalers living on the island and to this day you can still see where the whalers used to boil blubber. Farmers burnt much of the native bush to farm sheep on the island. However, with not much success they left for the mainland. In 1897 Prime Minister, Richard Seddon brought a bill to Parliament to acquire and preserve the island due to its unique diversity in native species.

Over 100 years later the island is flourishing with native trees, many rare native birds and other native species. The Department of Conservation has spent a long time eradicating unwanted rats and other species, which once dwelled on the island. Kapiti Island is now a pest free zone, so many endangered and rare birds have been introduced to the island, such as the kākā, weka, takahē, saddleback, stitch bird, and the little spotted kiwi. You can visit the island with one of the ferry services and stay overnight at Kapiti Island Lodge. The lodge is operated by iwi who have been living on the island since the 1820s and have a vast knowledge of the island, which has been past down through the generations.

To protect the island only 50 people may visit Rangatira and 18 my visit the northern end of the island per day. Private boats cannot land on the island, but there are two ferry services able to take passengers across (Kapiti Marine Charter and Kapiti Tours). Visitors to the island require a permit and DOC advise that you book your permit as early as possible prior to your intended visit date. To book a permit visit the DOC website. The Kapiti Island Lodge provides accommodation on the island. This is located on private land. However, surrounding the lodge is protected DOC land so permits are required to enter these areas. There is a DOC Shelter and toilets at Rangatira with information about the island found here. There are some amazing walks on Kapiti Island and one of these takes you to a lookout at the top of the island from which you can view the western side, that gets pounded by the harsh ocean conditions. On this walk through native bush it's not uncommon to see some of the rare native bird species.
View an online brochure of Kapiti Island here

Other ways to see Kapiti Island is by air. Whether by helicopter or a plane flight it's an experience that cannot be missed. Equally impressive is to jump on a boat and drive around the island, whilst doing a bit of fishing along the way. There is a marine reserve and fishing within the reserve is prohibited. However, because of the marine reserve there is some great fishing to be had outside this area. It's important to remember that landing on Kapiti Island is prohibited to private boats.

Kapiti Island is truly rich in history and is the icon of the Kapiti Coast. It's pest free status means that it can be home to many of New Zealand's rare native species. Visiting the island gives you a true feeling of what it must have been like before people settled in New Zealand. Standing on the shore and looking back towards the mainland gives you a feeling of detachment from modern life and a sense of being in a totally different, magical place.
Links:
Local Areas of Interest
Hotels / Motels
Baches
Bed and Breakfast
Raumati Village News:


Biking Mad!!

New biking shop has opened down at the Raumati Village Shopping Centre - Biking Mad. This is an exciting new shop there to look after the hugely growing biking trend. Come down and check out there range of biking accessories and bikes, they are located next door to the Village Baker.

New Shop Polly's

A new clothing store has opened at the Shopping Village called Polly's. Come down and check out the range of clothing on offer.

Why the Village has the best Coffee

The new Italian Wild Olive Cafe has everyone buzzing at the moment. With fantastic Food, great service and of course the best coffee there's no reason not to drop by and try it for yourself. Opened for both lunch and dinner.