Transportation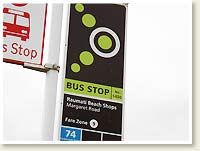 There are various ways to get around the Raumati Village and the Kapiti Coast. Whether its simply catching a bus and train or whether its viewing Kapiti from the air via airplane or helicopter or traveling to Kapiti Island via boat. You can even travel around Kapiti on a bike or if you want we have hire cars.

Hire Cars
Get a personal hire car to travel around the Kapiti Coast
Airports / Flights
Travel into Kapiti via Paraparaumu or Wellington Airports. Go for a scenic flight or jump in a helicopter and fly around Kapiti Island.
Bus and Train
Traveling around Kapiti has got much easier with an improved Bus and Rail network, taking you to many of the hotspots around the Kapiti Coast with regular services and good rates.
Boating
With great water around Kapiti and scenic areas such as Kapiti Island, there is some great boating to be had.


Getting to Kapiti Island and Charters
Boating around Kapiti
Biking around Kapiti
Get some fresh air and exercise by seeing Kapiti on a bike.

Kapiti Taxi Companies
Get from point A to B in a quick direct route via a taxi.
Hotels / Motels
Baches
Bed and Breakfast
Local Areas of Interest
Raumati Village News:


Biking Mad!!

New biking shop has opened down at the Raumati Village Shopping Centre - Biking Mad. This is an exciting new shop there to look after the hugely growing biking trend. Come down and check out there range of biking accessories and bikes, they are located next door to the Village Baker.

New Shop Polly's

A new clothing store has opened at the Shopping Village called Polly's. Come down and check out the range of clothing on offer.

Why the Village has the best Coffee

The new Italian Wild Olive Cafe has everyone buzzing at the moment. With fantastic Food, great service and of course the best coffee there's no reason not to drop by and try it for yourself. Opened for both lunch and dinner.