Raumati Beach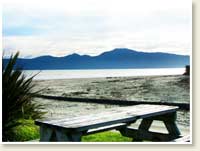 Kapiti Island
and views of the tip of the South Island and the Tasmin Sea. It is a local favourite for fishermen, boaters, walkers, swimmers and many others. Whether it's that game of beach cricket or cooling off on a hot day, the beach has it all. It's safe for swimming and with the
Village Shops
and public toilets located close by it is a great place to have a picnic with the family. Renowned for its amazing sunsets, which contrast with Kapiti Island, it offers amazing scenic photo opportunities and provides a great backdrop to your day. Other features of the beach is the dune restoration, currently being undertaken and the Wharemauku Stream, which weaves through much of the Paraparaumu area before entering Raumati and the sea here. The beach has been inspirational to many local college students and primary school kids, evidenced especially in art work, the beach is only a short walk for a field trip. Even for local artists the beach has a unique lure, which can be seen through their art work and sculptures.

In 1992 the
Kapiti Marine Reserve
was created and is now abundant with marine life. It's a great place for diving and has boosted recreational fishing. It's not uncommon to see schools of Kahawai splashing about off the beach, which quite often can be caught with a good cast from the beach. Kayak and boat fishing are also popular.
For more information on Fishing please visit our Fishing Information Website.
On a still day you will see the boat trailers empty with many boats out on the water. Raumati Beach is used for many organised activities such as the Kapiti Women's Triathlon, held annually in March. The course runs through Raumati Beach and Paraparaumu, centered around
Weka Park.
Along Raumati Beach front there are many beautiful houses. Many of these are holiday homes and some are also baches for renting. Most front the beach with superb views overlooking the ocean and Kapiti Island.
There is something for everybody at Raumati Beach.
For more information please check out the links below.
Links:
Local Areas of Interest
Hotels / Motels
Baches
Bed and Breakfast
Raumati Village News:


Biking Mad!!

New biking shop has opened down at the Raumati Village Shopping Centre - Biking Mad. This is an exciting new shop there to look after the hugely growing biking trend. Come down and check out there range of biking accessories and bikes, they are located next door to the Village Baker.

New Shop Polly's

A new clothing store has opened at the Shopping Village called Polly's. Come down and check out the range of clothing on offer.

Why the Village has the best Coffee

The new Italian Wild Olive Cafe has everyone buzzing at the moment. With fantastic Food, great service and of course the best coffee there's no reason not to drop by and try it for yourself. Opened for both lunch and dinner.